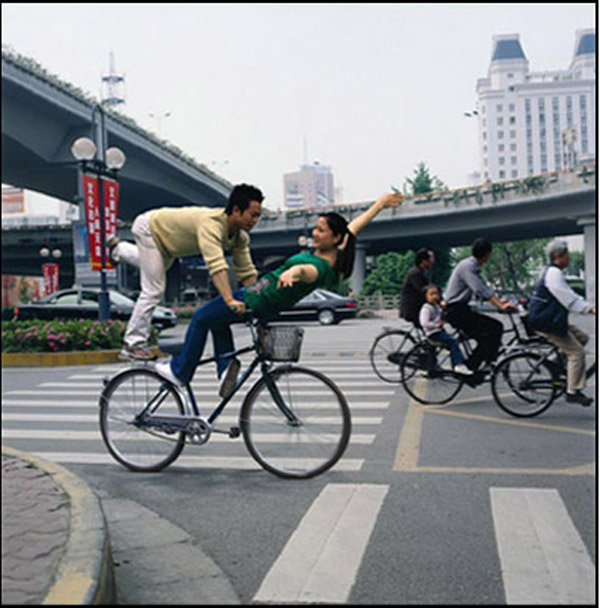 自行车保健操 II
Cycle Aerobics II

2005

数码摄影
100×100mm x8

首次展览于"逼真"(北京泰康顶层空间,2005)

Digital photograph2005
100×100mm x8

First displayed in True to Life,Top Space Gallery,Beijing,China(2005)
塑料花
Plastic Flower

2005

事件,装置

召集志愿者在QQ或MSN上与陌生的异性聊天,并约对方见面。来赴约的网友最后发现参观了一个展览,并且他们的聊天纪录都被打印出来悬挂在展览上。


展览:出事了

Event&installation
Volunteers chat with strangers on QQ and MSN, and make a date to meet each other. When chat-pals go to the rendezvous point, they find out that they are in an exhibition, where their chatting records are shown.
把开心进行到底
Let's Carry the Happiness until the End

2005

短信、录像互动装置

任何人的手机都是这个录像装置的遥控器。现场观众和场外观众都可以通过发短信来和录像中的女孩互动;观众每发一条短信,女孩就说一个笑话。

首次展览于"第二届广州三年展-别样:一个特殊的现代化实验空间"(广东美术馆)

SMN, video interactive installation

Anybody's mobile phone is a controller of this video device. Audience can interact with the girl in the video via sending message. Every time a message is sent, the girl will tell a joke.

First displayed in The Second Guangzhou Triennial - BEYOND: an extraordinary space of experimentation for modernization, Guangdong Museum of Art, Guangzhou, China.
灯箱
Light Box

2005

摄影,照相机绘画

艺术家设计了一个连接照相机的画笔装置,当夜晚面对灯景作画时,照相机所拍摄下来的风景照中所有的灯都将变成所绘图案、文字的景观。

首次展览于"让一些念头被看见"(杭州师范大学当代艺术馆)

Photograph, drawing by camera

The artist devised the installation of a paint brush connected to a camera.When the brush is used at night,the camera captures all lights,rendering a spectacle of what is painted and written.

First displayed in Let Some Ideas be Seen,Hangzhou,China