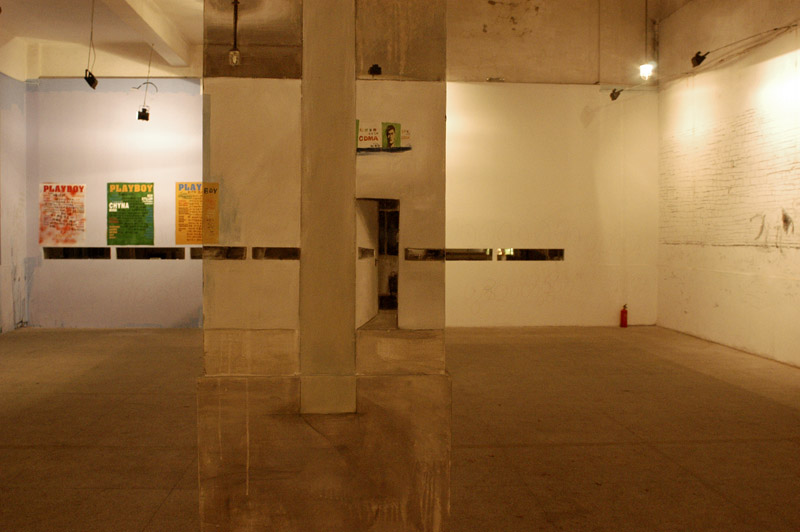 睁一只眼闭一只眼
Turning a blind eye

2003

油画

画一根柱子的四面,在一定的角度上可以看到这个柱子消失了。

首次展览于"讨厌"绘画展(上海比翼艺术中心)

Oil painting on the wall

Each side of a column is painted to resemble their respective backgrounds so that the column "disappears" from certain angles.

First displayed in Nasty:Painting,BizArt Center,Shanghai,China
春天的故事
Spring Story

2003

录像 13:05

本片作为西门子公司艺术项目内部文化交流处"他们在干什么?" 系列项目的一部分,拍摄了上海西门子移动通讯有限公司一千五百多员工合作朗诵对中国经济改革开放具有重要意义的《邓小平南巡讲话》。
模仿工厂流水线的作业方式,杨振中把"邓小平南巡讲话"拆解为短句,并请每位工人在镜头前说出由短句分配而成的字词,最终重新组成那篇讲话。

video 13:05

This video is part of the project series "What are they doing here?" by the Internal Cultural Communications Department of Siemens Arts Program.
It was shot in cooperation with over 1,500 employees of Siemens Shanghai Mobile Communications Ltd, who recited the Deng Xiaoping's "Southern Tour Speech".

Mimicking the workings of a factory assembly line, Yang Zhenzhong breaks down the "Deng Xiaoping's Southern Tour Speech" into short sentences and asks each worker to say the words assigned to the short sentences in front of the camera, eventually reconstructing the speech.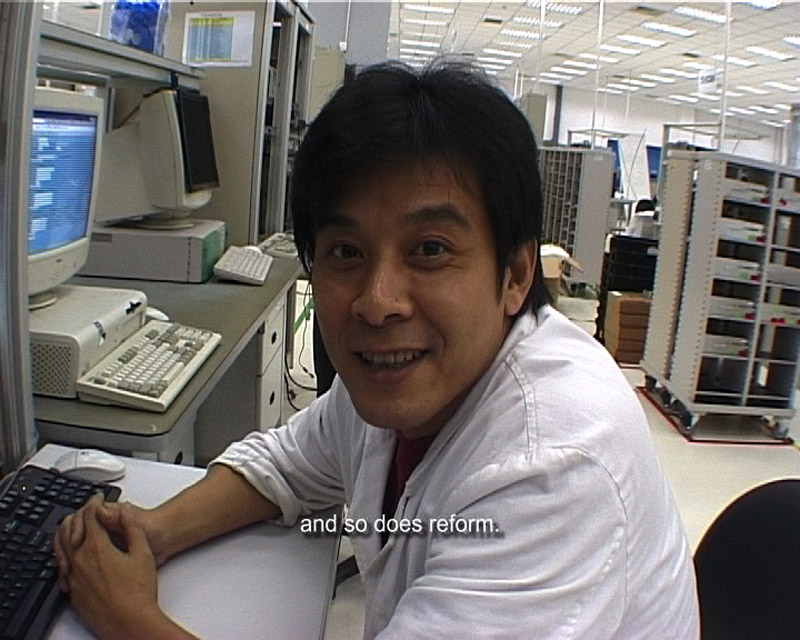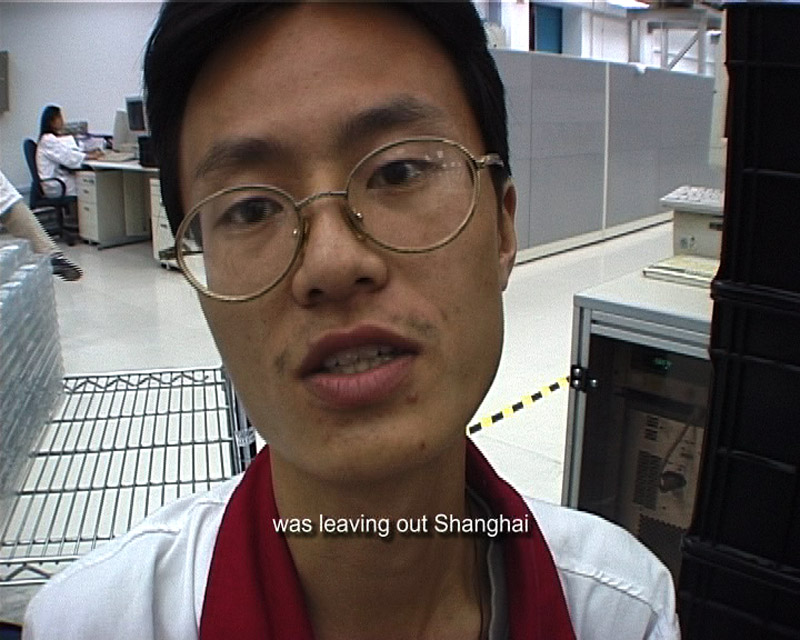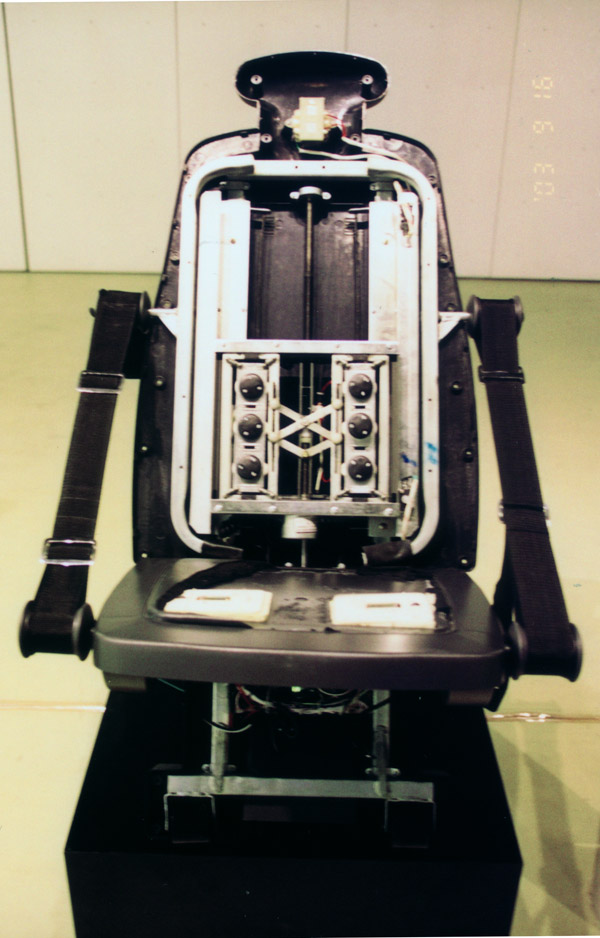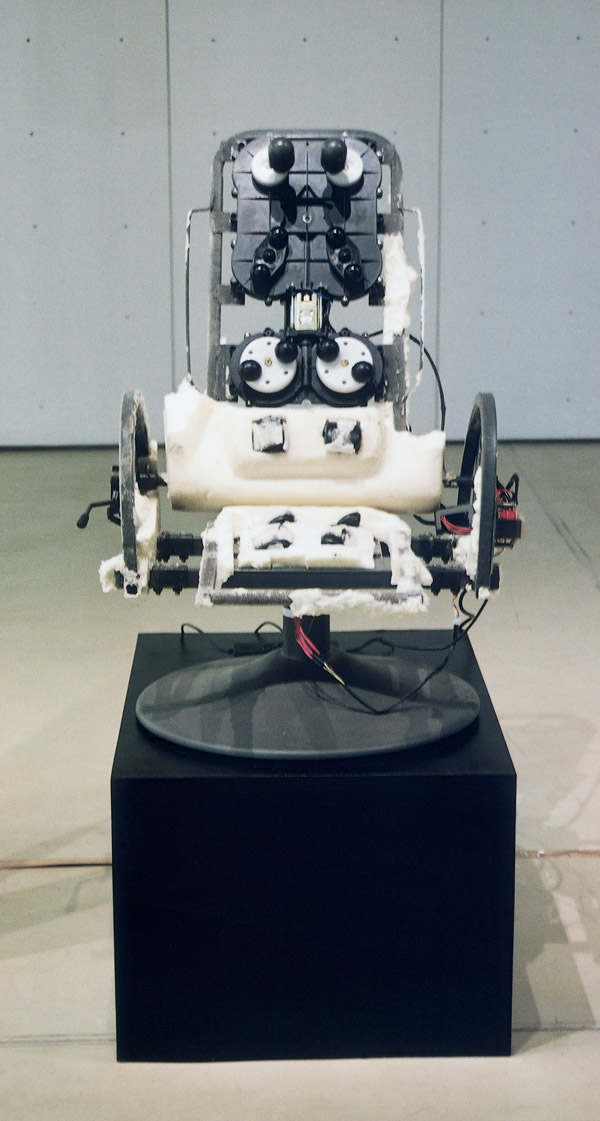 后来爱迪生的直流电输给了交流电
Then Edison's Direct Current was surrendered to the Alternating Current

2003

装置

在这组装置中,6部按摩椅被剥除光鲜表皮和柔软填充物,形态酷似电刑椅:通电时,按摩椅各自进行揉捏、轻敲等机械动作,共同产生了有力甚至富有欢快节奏的声响。

首次展览于"二手现实"(北京今日美术馆)

Installation

This installation consists of six massage chairs whose exteriors are peeled away and soft fillings removed,consequently resembling a row of electric chairs.Once turned on,they begin automatically and respectively to knead and pat,producing a string of rhythmic sounds,powerful and even delightfully energetic.

First displayed in Second Hand Reality Contemporary Art Exhibition,Today Art Gallery,Beijing,China(2003)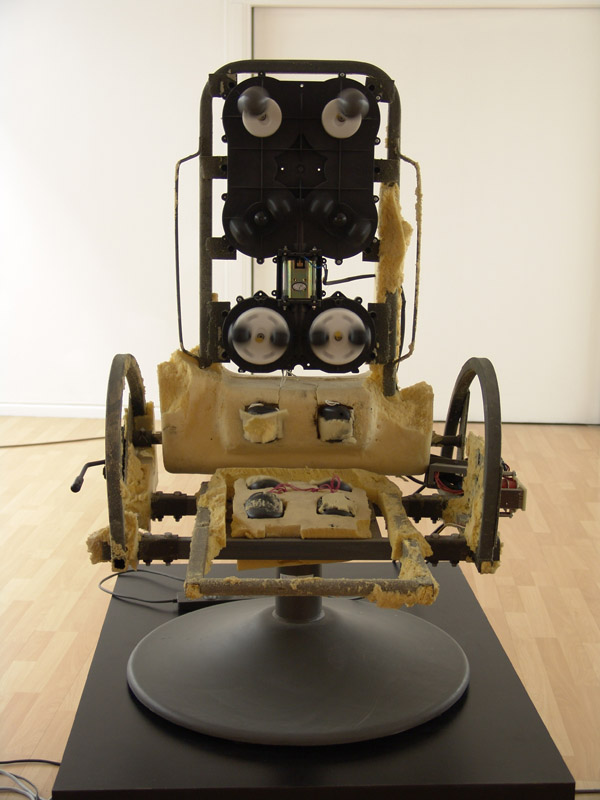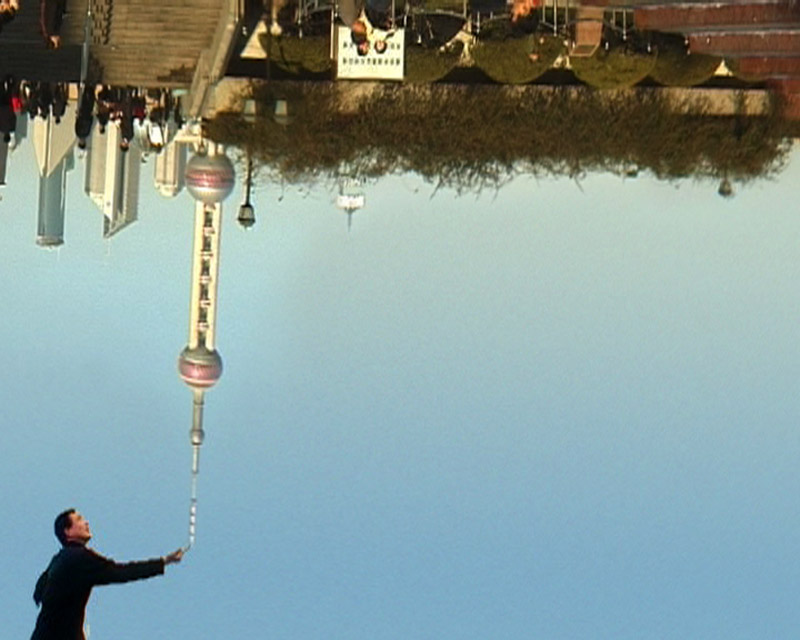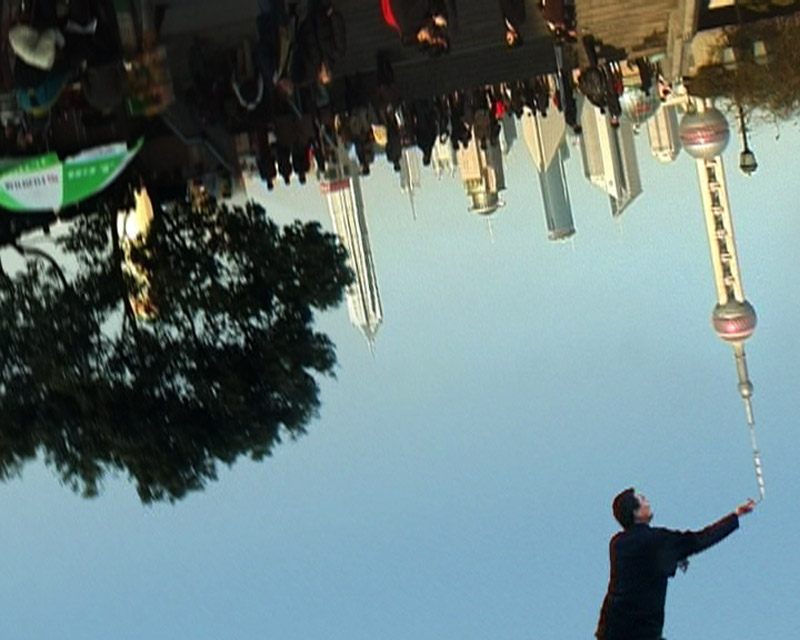 轻而易举II
Light as Fuck II

2003

录像 1分钟反复播放

艺术家颠倒了一段在外滩拍摄的城市景观录像,把城市的重要建筑头朝下,底朝天的举了起来,顶了手指上玩平衡游戏。

首次展览于"自制天堂",Le Parvwis当代艺术中心,波城,法国

Video, 1 min, loop2003
When the sights in a city no longer bear the historical significance, its images in my memory will become more and more misty (light). Such cities, like Shanghai, make people feel excited and depressed."–Yang ZhenzhongThen

First displayed in Fabricated Paradises,Le Parvis centre d'art contemporain,Pau,France